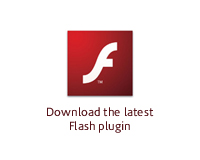 You need to upgrade your Flash Player.
This site requires a more recent version of the Flash plugin than you currently have. This plugin is free and can be downloaded
here
.
Or, if you're absolutely positive you have the most recent plugin, then click
here
to force the site to load.
---
Don Productions
Don Productions is a film production company that produces TV commercials, corporate films, and documentaries. From our head office in London and UAE office in Dubai, we offer full production services from the initial stage of developing the intial core creative concept to filming and delivering a high-quality films that reflect and achieve the standards of our clients. Our film production team in the UAE also provides international production facilitation services, assisting overseas film production companies wishing to film in Dubai, Abu Dhabi, Qatar, Bahrain, and Oman.

♣ Don Productions was founded in 2000 in London, UK
♣ Our UAE office was launched in 2005 in Dubai
♣ Proven track record of producing TV commercials and corporate films
♣ International client-base with major clients in the UAE, Japan, and the UK

Our in-house production team consists of creative directors, producers, and coordinators. We provide a full film production package and production servicing, which includes:

♣ Concepts, ideas and creative development
♣ Location Scouting, Casting, Wardrobe
♣ Set and Props design
♣ Filming with award-winning Directors of Photography and crew
♣ Post-production

During last summer, Don Productions finished filming a series of TV commercials for the Environment Agency - Abu Dhabi, directed by Donald Harding on the subject of social responsibility and awareness for the environment in the UAE. This project was highlighted at the Cannes advertisement festival journal as an example of the growing importance of media production in Abu Dhabi as it transforms into a commercial centre in the region. Don Productions will soon be based in the UAE's capital, Abu Dhabi, where we plan to open our office during this year. With offices in Abu Dhabi and Dubai, we believe we will be in the best position to serve our clients in the UAE.

Some of the recent corporate and TV commercial projects we have worked on:

Victoria & Albert Museum (Corporate Film)
Pocari Sweat / Light Publicity (TV Commercial)
Hino Trucks / Presentz (Corporate Film)
Environment Agency - Government of Abu Dhabi (4 x TV Commercial)
Etisalat GITEX (Corporate Film)
JGC Corp / Dentsu (TV Commercial & Stills)
Toyota Hilux / Coming Pictures (TV Commercial)
Toyota Sequoia / PICT (Corporate Film)
Kanebo Allie / TCJ (TV Commercial & Stills)

About Donald Harding
Donald Harding is managing director of Don Productions FZ LLC. He is an award winning executive producer – winning the silver medal at PROMAX/BDA awards in Barcelona 2008 with a film for Discovery Channel. Donald began his film career in the early 1990s as a director/producer on current affairs features working for a variety of international broadcasters. In 2000 he set up Don Productions Ltd in the UK and in 2005 established Don Productions in the UAE. Since then he has expanded into directing corporate films and TV commercials. Most recently he directed a series of environmental awareness TV commercials for the Environment Agency - Abu Dhabi which were fully produced by the Don Productions team.


Contact
LONDON OFFICE
Don Productions Ltd.
2 Foskett Mews
Shacklewell Lane
London E8 2BZ
UK

Tel: +44 (0) 20 7254 0044
Fax: +44 (0) 7092 273 283
Email: london@donproductions.com

DUBAI OFFICE
Don Productions FZ LLC
Office Ground 12, Bldg 5
Dubai Media City
P.O. Box 502655 Dubai, UAE

Tel: +971 (0) 4391 1378
Fax: +971 (0) 4369 7148
Email: dubai@donproductions.com